Let's simplify your skincare routine!
The Simple Skincare Routine
Your skincare routine really doesn't need to be complicated or time consuming, it can be simple & easy peasy!. After reading the recommended steps below, you think 'wow – that's a lot!', then simplify it by adding one stage at a time until it becomes part of your routine automatically, you don't even think about it anymore – you just do it! At that point, add another stage until this also becomes part of your routine. And so on and so forth until you are bossing your skincare routine without a second's thought – and all within a couple of minutes… no complex routines here! (if you need some help implementing a routine, I recommend you read Routine Machine by John Lamerton.)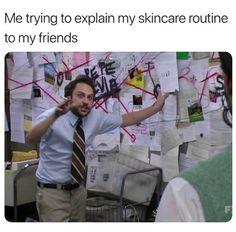 Follow this routine and your skin really will thank you, and you will be glowing!!.. Be sure to research the products you plan to use, this will be based on your skin type, skin needs, budget and what matters to you from a brand, i.e. sustainability, natural or naturally derived ingredients, vegan products etc.
The Easy Routine
#1 Cleanse – In the morning, you only need to cleanse once. Use a milk, gel, oil, balm or a cream cleanser (try to avoid micellar water here) – whichever works for you and your skin. Rub over your face and neck and remove with a clean damp flannel. In the evening, you will need to double cleanse. The first cleanse, or pre-cleanse is to remove any makeup / SPF you have had on throughout the day. You can use a milk, gel, oil, balm, cream, eye make-up remover, or you can opt for a micellar water at this point as you are going to wash your face afterwards. The second cleanse is to simply wash your face!! Your pre-cleanse won't do this as its removing your dirt & grime you already have on your face. Personally, I love a cream cleanser here, they are great for deep cleansing and removing any dirt left behind from your pre-cleanse. But you use whatever works for you. Use your flannel from the mornings cleanse to remove – then put it in the wash!!
#2 Tone – Try to use an acid toner for this step. Don't be put off by the word acid, in fact, acids are great exfoliants and an essential to your skincare routine. There are three main types of acids. AHA's (Alpha Hydroxy Acids) are great if your skin is showing signs of ageing. BHA's (Beta Hydroxy Acid) this is one if you suffer with blemishes, spots or acne. PHA's (Polyhydroxy Acids) are great for sensitive skin, while having the effects of an acid. Ensure you do your research here and use a toner that suits your skins needs. Ideally, you would get at least 2 or 3 different types of acid (not 2 or 3 different products with the same acid) and use them on rotation. However, if budget is tight, this is absolutely not necessary. Caroline Hirons, skincare guru, describes using acid toners "is like taking your face to the gym".
#3 Eye Cream – If you use an eye cream, this is the point to apply it. Don't apply your eye cream last. No matter how careful you apply your serums/moisturisers you will always get some in the eye area and then your eye cream won't absorb where you want it to. Eye cream first. Everything else afterwards (and on top if you like and it's not a contra-indication). One point to note for your PM routine – if you are using a Vitamin A product (e.g. Retinol or Bakuchiol as the natural alternative) apply this before your eye cream. Vitamin A needs to be applied to dry skin and left for around 20minutes before you continue with your routine.
#4 Serums / Oils – Here you can use both, and also where you want to spend a bit more of your budget. Serums would be applied first, particularly water-based ones and oils would follow. A little goes a long way, a couple of drops is all that is needed. Take a couple of drops of serum / oil on the end of your fingertips, pat them quickly on to the fingertips of the other hand and then apply immediately. Spending 20 seconds 'warming' your serum in your hands by rubbing them together is a complete waste of time, money and product, unless your intention is to have fabulously soft palms. Save your most expensive for your PM routine. This is where you want to treat your skin. Use an oil to treat your skin needs – not your skin type. You should 'treat and repair' your skin in the evenings, whereas in the mornings the purpose of your skincare should be to 'prep and protect'.
#5 Moisturise – Choose your moisturiser by your skin type, not condition. Your moisturiser is your coat / protection. Don't over think your choice of moisturiser. It's more important to invest and research what goes on beforehand. If you know you are excessively oily, try a light hyaluronic acid serum and oil-free moisturiser. Whether or not you use a night-time moisturiser is dependent on what treatment you use. If your treatment is IN your moisturiser, you're done. If you are using a lovely night-time oil you may not want/need anything else. How much? Aim for around a 10p size. Adjust according to your face… less is more. Your skin should feel comfortable, not 'wet'.
#6 SPF – Mornings only!!, and try to use a minimum of SPF30, however, I personally use a SPF50. A separate SPF is recommended as a product containing SPF may not be very beneficial to your skin. Yes, it's better than no SPF, however I'd rather be safe than sorry. SPF, both chemical and physical, is a dominating ingredient and if you load a skin cream with it – that's the benefit. i.e. I would never buy a £80 anti-ageing moisturiser with SPF – I'd be paying for an expensive SPF. However, if you can afford it, and you love it, then go for it – do whatever works for you. You just wouldn't be getting the best out of your moisturiser. Buy a good moisturiser and a perfectly reasonably priced SPF. SPF cannot replace your moisturiser.
I hope this has helped to simplify your skincare routine and make it seem less daunting!! I'd love to hear what your routine is at the moment, if you're going to change anything or if you find any of this helpful! Comment below and let me know your thoughts.
Much Love,
Natalie